There's been a surge in the number of high schoolers taking college classes, and it's not the nerdy bright kids anymore. That's the takeaway from some new data tables published by the National Center for Education Statistics (NCES) that were publicly released in March, but dated February 2013.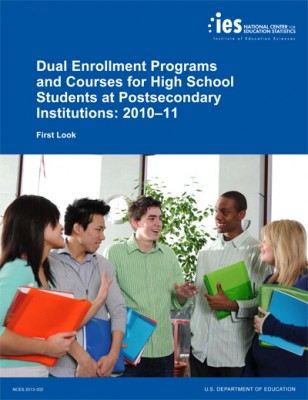 The new data report that about 1.3 million U.S. high school students took classes for college credit during the 2010-11 school year. That's a 67 percent increase since the last time the NCES counted during the 2002-03 school year, when about 800,000 high schoolers took college classes.
Another way to see the rapid growth is by the number of high schools participating. The NCES data report that almost 15,000 public high schools (82 percent) enrolled students in 2 million college courses. That's 4,000 more high schools than in 2002-03.
These are not AP courses, but supposedly actual college classes. They're often taught by a community college, but sometimes by a four-year university. Students don't always a taste of college life. In many cases, these "college" classes are physically held at the students' high school and taught by high school teachers. The new data show that 64 percent of the colleges that sponsor dual-credit programs held at least some of their classes in a high school. And 79 percent of those schools use either exclusively high school instructors or a mix of college and high school instructors to teach the classes.
Of course, the rapid growth of college credits in high school and the use of high school instructors would make anyone wonder whether these are watered-down college courses. Are these students really getting college caliber instruction for their college credits? When the students get to college, do they have to take these courses again? Are they falling behind their peers? These data don't answer that question.
I talked with Joni Swanson, who wrote her dissertation on dual enrollment programs and is actively involved with the National Alliance of Concurrent Enrollment Partnerships. She mentioned a couple earlier studies in Oregon and Florida which she says show that the students who take college courses in high school are keeping pace with their peers when they get to college. But we have nothing on a national level.
The interesting development is the transformation of these college credits, from a gifted education option to a college-readiness program. When I was in high school in the 1980s, there was one wunderkind in my high school who took an advanced calculus class at a local community college. He was two years ahead of grade level in math and completed high-school calculus his junior year. It's a classic example of how these programs started as an option for bright high schoolers who have exhausted their high school curriculum, but don't want to start college at age 16 and miss their senior prom.
"There are many more academically middle students. These are definitely not programs for the top five percent anymore," Swanson told me.
Swanson says many high schools are using college courses as a way of combatting senioritis, the universal affliction of boredom that hits at the end of high school. They're being promoted to students who are on the fence about going to college, to give them a taste of what college will be like.
And they're increasingly being used to motivate kids who can barely pass their high school classes and are at risk for dropping out. The NCES data report that more than 22,000 high-school students enrolled in college courses during the 2010-11 academic year in programs that were specifically targeted to at-risk students. That's more than triple the number in 2002-03 when 6400 at-risk high school students were taking college classes. We have no idea how many of these students completed the classes, received credits and eventually went onto college.
Swanson says there's a big data challenge in figuring out if these programs are successful. That's because students often move out of state after high school and it's hard to track them down.
What's clear is that these dual enrollment programs are already becoming institutionally entrenched before we know whether they work. In Iowa, for example, every community college is required to offer dual credit courses to high school students.
Data resources on dual enrollment programs:
2013 NCES data on dual enrollment, covering the 2010-11 school year.
http://nces.ed.gov/pubs2013/2013002.pdf
2005 NCES data on dual enrollment, covering the 2002-03 school year
http://nces.ed.gov/pubs2005/2005008.pdf
Oregon study showing college performance of high schoolers who took dual credit courses:
http://www.ous.edu/sites/default/files/dept/ir/reports/dualcredit/DualCredit2010FINAL.pdf
Links to the Florida and California studies:
http://www.postsecondaryresearch.org/index.html?Id=Research&Info=Dual+Enrollment
National Alliance of Concurrent Enrollment Partnerships research
http://nacep.org/research-and-policy/research-studies/
Community College Research Center at Columbia Teachers College
http://ccrc.tc.columbia.edu/Dual-Enrollment-and-College-Credit-Programs.html
Hechinger Report stories on dual enrollment expansion:
http://hechingerreport.org/content/new-dual-credit-trends-emerge-as-pioneering-post-secondary-education-options-turns-25_3238/
http://hechingerreport.org/content/low-income-and-at-risk-students-the-focus-on-dual-credit-programs_3262/
http://hechingerreport.org/content/meet-five-students-who-got-a-jump-on-college_3291/