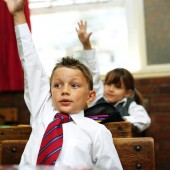 Fewer students are enrolled in private schools and there are fewer private schools in the United States than there were two years ago. That's according to the latest private school data, released on July 9, 2013 by the National Center for Education Statistics.
In the fall of 2011, there were 30,861 private elementary and secondary schools , a 7.5 percent drop from the last time the NCES counted in 2009. The number of students in private schools dropped 4.4 percent during the same two-year time period to 4,494,845 students.
What accounts for the decline? Is it the 2008 recession? Or the shrinking of the Catholic Church's parochial schools? Or a combination of both?
Unfortunately, it's not easy to look at changes over time and speculate about the answers to these questions. You have to download each biennial report to compare numbers.  But you could go back as far as 1989, when the NCES, in conjunction with the U.S. Census Department, began collecting this data.  (I looked at the 2011-12 and the 2009-10 reports just to calculate the headline numbers above).
For the fun of it, I quickly checked the 2007 private school numbers and I saw that there were 33,740 private schools that year, very close to the 33,366 recorded in 2009. That confirms that the 7.5 decline is a new phenomenon.
Table 1 of both reports shows that all kinds of private schools are declining, both Catholic and non-sectarian independent schools. Even Montessori schools are closing. The smallest schools, those with fewer than 50 students, were the hardest hit with 11 percent of them disappearing between 2009 and 2011.
One type of private school, however, is becoming more popular and expanding: private schools that cater to students with disabilities and special needs.