Back in 2013 a study, "Early College, Early Success: Early College High School Initiative Impact Study," showed that low-income, minority students were showing remarkable results in a new kind of high school where students are marched through the first two years of college during their high school years. In the 10 schools studied, 86% of the students, almost half of which were poor, graduated from high school and 80% enrolled in college afterward. (The study tracked three cohorts (or classes) of students for two to four years after high school).
The Gates Foundation helped start these new early college high schools back in 2002 with the theory that struggling students might be more motivated to learn if they could save time and money by earning an associate's degree in high school. Instead of offering college credits to only the top high school students, the idea was to use college credits as a psychological motivator with the bottom of the socio-economic ladder who might not otherwise go to college at all. Today there are more than 280 of these early college high schools in 30 states. More than 80,000 students are enrolled in them. And the number is growing. These schools are expensive to run. Most of the ones in the study were located on college campuses and the classes were taught by college instructors. Plus they offered an array of support services, from tutoring and counseling to college preparatory information.
With all the attention that these schools are getting, the Institute of Educational Sciences, part of the U.S. Department of Education, conducted a review of the 2013 study and posted the results in March 2014 on its What Works Clearinghouse website. The DOE evaluation not only confirmed many of the original study's findings but also praised the study itself. Students enter these schools through lottery and so their results were compared with equally motivated students who also entered the lottery, but didn't win a seat. Instead they attended 272 different high schools. That's about as close to a random clinical trial as education research gets. (However, 22% of the students who were offered admission in an early college high school didn't enroll. Nonetheless, their high school graduation and college enrollment data was lumped together with the kids who did go. So one-fifth of the data for the Early College students comes from students who went to traditional high schools and I can't help but wonder how that muddies the results.)
Men and Early College
What impressed me was some of the demographic breakdowns of the data in Appendix D. These schools seem to be making a real difference with low income males. Males who went to the Early College High Schools were much more likely to graduate from high school compared to students who lost the lottery and went to ordinary high schools (87% vs. 78%).  Similarly low-income students were more likely to graduate from these early college high schools than a traditional high school (83% vs. 74%). Women and non low-income students also graduated from these early college high schools in larger numbers, but the difference was only 2 percentage points. The other number that popped out at me was that males were much more likely to enroll in college after an early college high school (78% vs. 66%). Women were also more likely to enroll in college afterward, but the difference between their counterparts at traditional high schools was only 6 percentage points.
I'd be curious to hear theories on why young men, as opposed to women, might respond more to the early college curriculum and environment.
Remedial classes 
But some data disappointed. Eighteen percent of the early college high school graduates who enrolled in college needed to take remedial classes (versus 22% of the students who went to traditional high schools). And even though half the early college high schools claimed to have a STEM (science, technology, engineering and math) focus, the high school math scores of the early college students were no different than the math scores of the traditional high school students.
Then I read a January 2014 study, following up on these same group of students, four to six years later. And I learned that some of the stark differences between kids from the early college  and ordinary high schools start to fade. Over time, college enrollment ticks up for the kids who went to regular high schools.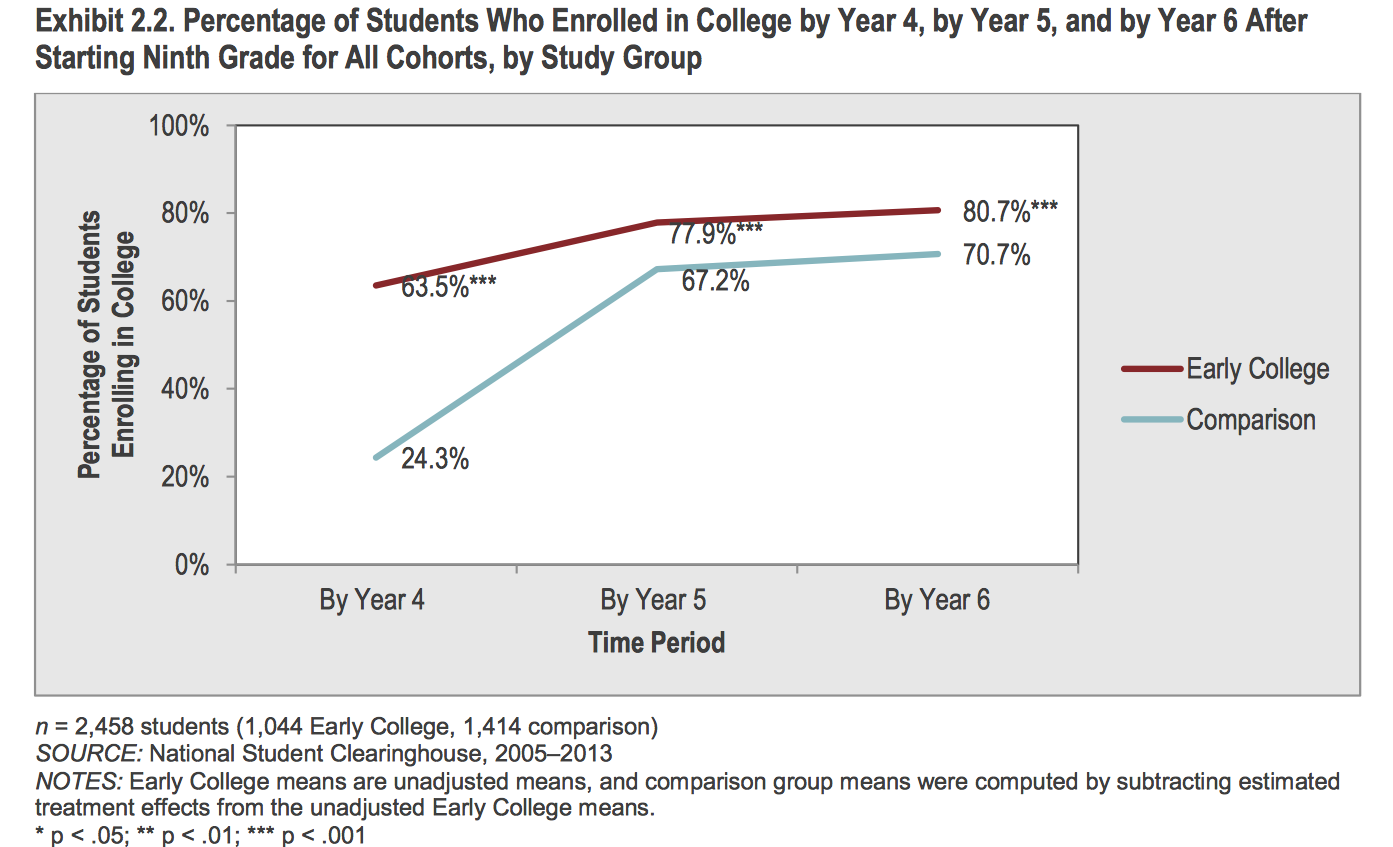 It will be interesting to see college graduation and employment data for these students five years from now.
Related story:
The divide on how to educate fidgety boys: challenge them, let them run around or hire more male teachers?