The obesity rate among college graduates is significantly lower than for high school drop outs or those with only a high school degree. This obesity gap exists not only in the United States, but also in 23 other countries around the world, according to a new data report, Education at a Glance 2013, by the Organization for Economic Co-operation and Development (OECD) released on June 25, 2013.
On average across the 24 OECD countries, approximately 19 percent of adults are obese. But among those with a college education, the obesity rate is only 13 percent. For high school drop outs, the obesity rate is 25 percent.
Obesity rates vary quite a bit by country. And the differences are more startling in the countries with the highest rates of obesity. For example, the United Kingdom shows a 15 percentage point gap in obesity between those who have a college education (fewer than 30% of UK college grads are obese) and those that didn't complete high school (more than 40% of UK high school dropouts are obese). In the United States, more than 30 percent of the population is obese. But fewer than 25% of college grads are obese compared with more than 35 percent of Americans with only high school diplomas or less. That's a 10 percentage point gap.
The gap is even steeper among women: 16 percentage points.  That is, the obesity rate among educated women is much lower than for uneducated women. Among men, the education differential in obesity is only 7 percentage points.
Andreas Schleicher of the OECD cautioned against jumping to the conclusion that education makes people thinner. "We don't understand the causal nature," he said. It may be that people who exercise and eat with moderation also tend to choose to go college.
Click on the chart to see a larger version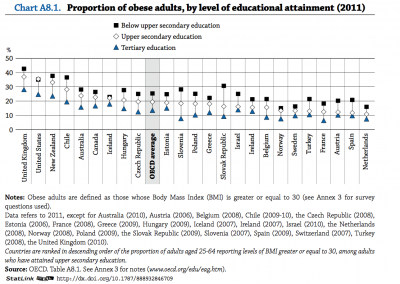 (Source: OECD Education at a Glance 2013 p.148 for chart A8.1 and p. 154 for table A8.1)
Oops. Story corrected to clarify that fewer than 30% of UK college grads are obese, not more than 30%.