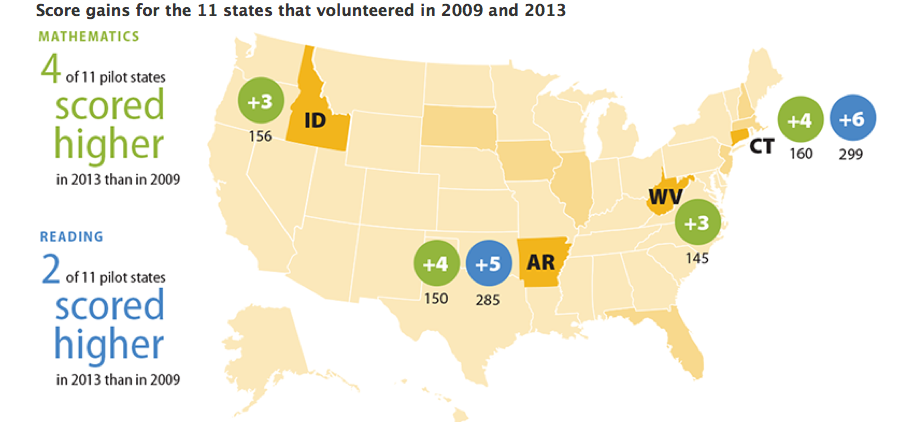 I previously wrote about the woeful stagnation among U.S. high school seniors on a national reading and math test whose 2013 results were released May 7, 2014. But two bright spots are in Arkansas and Connecticut. Both state's high school seniors showed a notably large 4 point increase on their math test and even larger increase in reading. (6 points in CT and 5 points in AR).  They were among 11 states that have volunteered to test a larger sample of their state's students so that the National Center for Education Statistics could report separate statewide results. It's also possible that other states would have shown large gains too, had they agreed to do extra testing, but they would be buried among the national data.
Meanwhile, Massachusetts, generally the top performing state in the nation, showed a significant decline in math and reading scores among high school seniors, falling 2 and 3 points respectively.
Officials from the National Center for Education Statistics provided no answers for why Arkansas and Connecticut were improving more than other states. It's often easier to show large gains off a small base and that might help explain why Arkansas and West Virginia, two low performing states, showed notably large improvements. Even with this year's improvements, Arkansas's scores are still south of the national average. But Connecticut started above the national average and its seniors are now ahead of Massachusetts in reading and only one point behind Massachusetts in math.
In separate state reports, the NCES noted that Connecticut is also making headway in closing the black-white achievement gap. In reading it narrowed from 36 points in 2009 to 27 points in 2013.
Related stories:
High school wasteland: Demographic changes do not explain test-score stagnation among U.S. high school seniors
Washington DC and Tennessee post huge gains in math and reading in 2013 while nation shows small improvement